web2.0 Design and Development
About Web2.0
Although web2.0 websites almost always look distinctive, it's not just a new look with some new features - it's a revolutionary concept and approach in user interaction, built using a combination of technologies. Websites such as Amazon, Wikipedia and Deli.cio.us can be considered typical Web2.0 sites.
There are Collaborative Environments such as Wikis, Blogs, Social Networking Sites and Social Communities. There are Web2.0 Mashups - discrete components are constructed, which allow developers to combine them in ways that produce entirely new concepts eg Google Maps
A web2.0 site typically has the following characteristics:-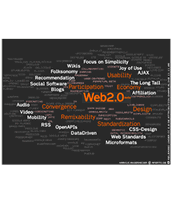 Interaction between the website and the user - using AJAX (Asynchronous Javascript and XML) it is possible to update specific parts of a web page from the web server or locally on the web browser very much faster than is possible by refreshing the whole page. This opens up infinite possibilities for fast interaction, so that the user can be more actively involved with the website.
Community-based interaction - the user has the option of being able to interact not only with the website, but with the feedback or data from other users of the site by sharing opinions, bookmarks, information, photos, or even community-biased linking systems such as interactive tag clouds.

This website uses a licensed set of library modules which employ some of this technology. These modules were designed, tested and provided by the very fine people at MooTools, and released with a very liberal licence - community-based spirit at work!
RSS & Data Feeds
RSS is an information feed system which is kept automatically updated by the publishing site. It is generally used via an RSS Reader application (eg RSSReader).
One method of motivating visitors to keep coming back to your website (increasing your quality traffic) is to have regularly updated content or links. You can of course change the content of your site yourself every day or so, but this can be very time consuming. One method is to use a suitable RSS Feed within your website for live information content. A Museum Events feed is shown here on the right.
If you do have the time and a regular supply of interesting content to offer, you can easily set up a Blog or your own RSS feed as a live information source for use by others eg a diary or newsletter. In addition to providing direct extra traffic to your website, this is a very good way to increase the search engine ranking of your site as it can provide a lot of extra links.
Communities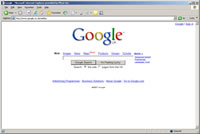 There are a lot of community-based sites which have proved to be very successful eg
Flickr - shares photographs
Eurekster - hosts community-biased tag clouds for any website or subject
Deli.cio.us - shares bookmarks
MySpace - community site to share information
Squidoo - community made up of individual's points of view - collections of ideas, people, places, hobbies, sports, pets, products, philosophy, politics, recommendations, expertise or anything. Build a web page to share on something you care about
YouTube - shares video, sound and pictures
Tag Clouds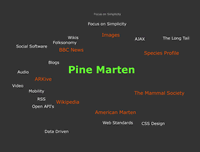 This is an intuitive way to display a set of related links or data items and their relationships. Different colours and/or sizes are used to emphasise the relative importance or popularity of a related set of items.